Christmas Challenge 2019
Learn a Christmas Song by January 1, 2020 for a chance to win an iPad!
Individual Rank
Rank
Name
Christmas Songs Perfected
1
Benjamin B.
570
2
Amy R.
564
3
Lorri D.
456
4
Alan C.
430
5
Marylan H.
352
See All Entrants
Group Rank
Rank
Name
Christmas Songs Perfected
1
Lorri D.
2,070
2
Allysia V.
1,185
3
Joshua W.
1,117
4
Cindy W.
818
5
Lynda B.
791
See All Entrants
Watch the video for prize and competition details!
Instructions
Login to your Piano Marvel account
Go to the library and do a title search for "Christmas"
Choose a Christmas song, select a slicing (whole, chopped or minced) and complete every star with a 100% in that slicing. *Hint - each slicing counts as a separate entry so if you get a perfect score on the whole, you can get another entry for a perfect score on the chopped and minced.
Perfect as many Christmas Songs as you can by January 1, 2020. Have fun!
---
---
Frequently Asked Questions
What songs qualify for the Christmas Challenge 2019?
Any song that comes up in the library when you do a title search for "Christmas" qualifies.
What if I already perfected a song in the past, does it qualify for the drawing?
Yes! If you perfected a song in the past and you perfect it again it will count for this year's contest.
Are the entries all weighted the same or do I get more entries for higher level songs?
All songs are weighted the same. This keeps the playing field fair for our beginning students and our accomplished pianists.
Is there a limit to how many songs I can complete?
You are only limited by how many Christmas songs are in the library, but we're adding more all the time! Good luck catching us!
Which songs do you recommend starting with for a beginner?
We have lots of level 1 and 2 songs that are easy to learn, but have fun accompaniments. Check out "Christmas Piano Solos", and "More Christmas Piano Solos" by Hal Leonard. Also look at Alfred's "Christmas Premier Piano Course". "Christmas Solos" and "Christmas Duets" are great too.
Does any gold trophy qualify as an entry?
It only qualifies if it is completed with a 100% score.
How do I keep track of the Christmas songs I've perfected?
You can view all of your perfected Christmas songs in the entries tab on your Christmas 2019 Challenge Rank report.
---
We've added more Christmas music to the library, and just in time!
Check Out Some of the Christmas Collections Available!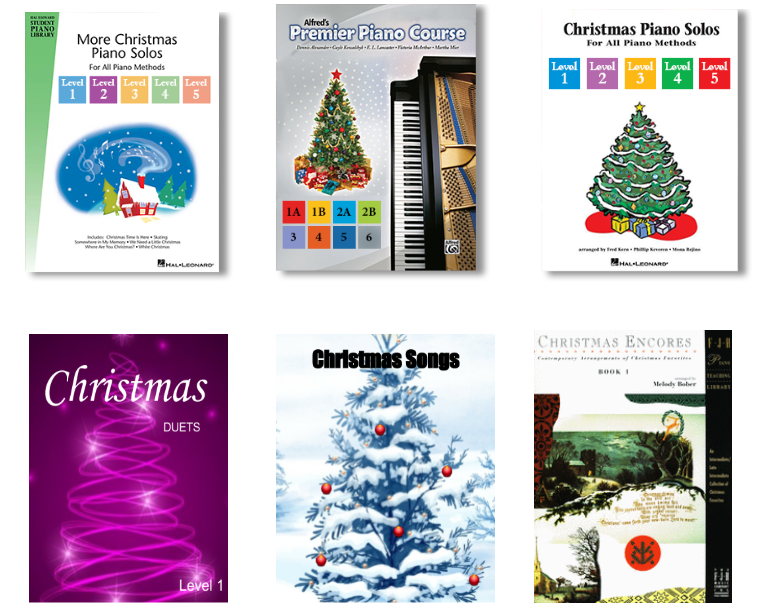 Christmas Titles!
Here Comes Santa Claus (Right Down Santa Claus Lane)
Frosty the Snow Man
The Snow Lay on the Ground
Joy to the World
Over the River and Through the Woods
Blue Christmas
Silver Bells
Angels We Have Heard on High
Let It Snow! Let It Snow! Let It Snow!
Auld Lang Syne
He Is Born, the Holy Child
The Twelve Days of Christmas
Hallelujah Chorus
Angels from the Realms of Glory
Christmas Time Is Here
Jingle Bells
Once in Royal David's City
Here We Come A-Wassailing
Suzy Snowflake
Blue Christmas
Coventry Carol
Pat-A-Pan (Secondo)
Pat-A-Pan (Primo)
Santa Claus Is Comin' to Town
What Child Is This?
O Come, O Come, Emmanuel
Snowfall
It Came Upon a Midnight Clear
Grandma Got Run Over By a Reindeer
Believe
Bring a Torch, Jeannette, Isabella
Lo, How a Rose E'er Blooming
O Holy Night
Christmas Time Is Here
O Little Town of Bethlehem
Jesu, Joy of Man's Desiring
Skating
Somewhere in My Memory
Carol of the Bells
Where Are You Christmas?
Auld Lang Syne
Jingle Bells
Jolly Old Saint Nicholas
Good King Wenceslas
Away In A Manger
Go Tell It On The Mountain
We Three Kings of Orient Are
O Come, O Come Immanuel
God Rest Ye Merry, Gentlemen
I Saw Three Ships
It Came Upon The Midnight Clear
Sing We Now Of Christmas
O Little Town Of Bethlehem
What Child Is This?
O Come, Little Children
Silent Night
Joseph Dearest, Joseph Mine
O Come, All Ye Faithful
Up On The Housetop
We Wish You A Merry Christmas
The First Noel
My Favorite Things
Rudolph The Red-Nosed Reindeer
O Christmas Tree
The Chipmunk Song
Carol of the Bells
Frosty the Snow Man
Deck The Hall
We Need A Little Christmas
Rockin' Around the Christmas Tree
Silver Bells
Angels We Have Heard On High
Joy To The World
Parade of the Wooden Soldiers
Hark! The Herald Angels Sing
The Holly and the Ivy
Jingle-Bell Rock
(There's No Place Like) Home for the Holidays
A Holly Jolly Christmas
Feliz Navidad
March of the Toys
It's Beginning to Look Like Christmas
The Christmas Song
Still, Still, Still
Mary Had A Baby
I Wonder As I Wander
The Christmas Waltz
Tennessee Christmas
Toyland
Mister Santa
Jingle Bell Classic
Let It Snow! Let It Snow! Let It Snow!
God Rest Ye Merry, Gentlemen
March
Dance of the Sugar Plum Fairy